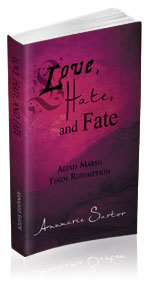 Love, Hate, and Fate - Book Three
Alexis Marsh Find Redemption
Available Now – the third installment of Alexis Marsh's saga – Love, Hate, and Fate.
Alexis Marsh has been on her own for nearly two years after her relationship with Damon crumbled. Constantly changing her location and identity, she reunites with her past to attempt to flush out a killer and build a future.
The question is will she and those important to her survive the truths that have been buried for decades? Embroiled in mystery, deception and an everlasting passion, our heroine fights for her identity, her independence and her life.
Will Alexis and Damon find their way back to each other? Will he embrace a life he never imagined? Will her past and her parents' history prove to be too much to overcome?
With so much against her, will Alexis triumph or be defeated, and will the price she pays be worth the life she's never known but richly deserves? Ride along through ups and downs and twists and turns to reach the destination of one young woman's treacherous journey.
Buy Now
Return to Top