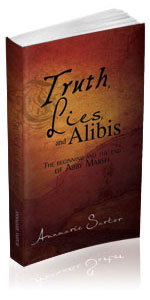 Readers Write - Truth, Lies, and Alibis
Here's what readers are saying about Truth, Lies, and Alibis
I'm working on my EMBA so I had to wait until there was a lull in my classes before I started your book. Oh my, this is not my typical read, but oh so captivating!
Wow...the last time I read a book in one weekend was John Grisham's Pelican Brief and I read all the time! So when does the next one come out?
Post a comment
Return to Top

A suspenseful story about Abby Marsh, a sheltered teen and daughter of a wealthy dignitary, whose relatively normal and uneventful life is consumed by tragedy. Abby attempts to live an ordinary life or at least to appear that way, but she just can't seem to move on, until she meets him. In a whirlwind Damon sweeps in unhinging her from her misery and her reality, making her feel alive again. Her spontaneous jolt back into the land of the living strengthens her to sort through her past, revealing more questions than answers. With everything she ever knew about her life and herself in question, Abby comes to a shocking realization and is forced to choose between her past and her future. A great weekend read full of twists and turns that will leave you wanting more. Sequel anyone?
Posted on Amazon.com
Post a comment
Return to Top

Please tell Annmarie I received her book!!! It was wonderful! How proud ya'll must be! I stayed up late last night to finish it...she is a wonderful writer!! I couldn't put it down!
Post a comment
Return to Top

This is a wonderful book to get lost in, a good weekend read. It has romance (HOT and STEAMY, but not on the vulgar side) and mystery. I'm looking forward to reading the 2nd book.
Posted on Barnes and Noble dot com
Post a comment
Return to Top

I just finished your book and I loved, loved, loved it! Alexis was awesome! Settings were perfect, narrative flowed, plot stayed suspenseful, exactly the right amount of sexy. Left me wanting more! When will the next adventures of Abby Marsh be published?
Post a comment
Return to Top

I read your book today – very creative and hard to put down until finished – I look forward to reading the sequel. Congratulations and best of luck to you with its distribution!
Post a comment
Return to Top

Ok, I started reading the book on Friday night and couldn't put it down, so when is book #2 coming out?
Post a comment
Return to Top

I just finished your book this weekend, and it was fantastic! You really have a flair for writing -- and I couldn't pull myself away towards the end. It seems set up perfectly for a sequel. Is that in the works??? Your fans want to know! :-)
Post a comment
Return to Top

This book is a thrilling tale of a young woman - a member of the international diplomatic set - whose world is not what it seems. And just when you think you have it all figured out, the author throws a surprise ending that will literally have you jump out of your seat. Truth, Lies and Alibis is apparently this author's first novel, but it doesn't read like one. It's well-seasoned with twists and turns and beautiful language ... I liken it to a Tom Clancy story from a woman's point of view. But this is not a book for women only. It's compelling reading. Bravo Ms. Sartor. I, for one, want more!!!
Posted on Amazon.com
Post a comment
Return to Top

I'd been putting off reading it until I had a chance to delve into it...Started it on the way back from DC this a.m...in between interruptions and such, I just finished it! WONDERFUL READ!!! PLEASE TELL ME THERE WILL BE A SEQUEL!?!? I'm a Ludlum fan; and, this read like one of his, though thankfully not as long!! Hope you've been getting good responses...You've got one from me!
Post a comment
Return to Top

What an awesome book. And the ending…. Shame on you, for leaving me hanging on. My first thoughts… she will get pregnant (young, and obviously not on the pill, I was waiting for this to be the ending of the book). But instead it twisted to the gun, the motives, the truth about to come out, and then another sexual rendezvous for the finale! Wow – what intensity!
Post a comment
Return to Top

Second thoughts---- yes, I'm still thinking of the book this morning. What WAS her father into? Was it illegal? With the guns in the boxes.. .I'd say yes. Her mother died at a young age… was it murder? So many questions, so much eagerness. I can't wait to read the 2nd one (and instead of "the bedroom" …. How about the kitchen counter? LOL) I love your book. GREAT WORK! And I know this is only the beginning of your future for writing! MANY KUDOS!
Post a comment
Return to Top

Finished the third in the Alexis Marsh thriller series. These books are written with mystery, love, lust and action. This is one of the books that when you start reading, you can't put it down until you are finished. Absolutely the best reading. Can't wait for the next book!
Jenny Reighney
Post a comment
Return to Top

\"You are certainly a mysteriously seductive writer, aren't you? I went out of town with my husband these past 3 days & sat at the pool…reading your book & didn't want to put it down. You tell me how I could have chills on my skin when sitting out under the baking hot sun….well, my Dear…you can thank your book. I didn't stop till I had finished it…with only a couple pages left to read, I thought…"Oh no…there's not enough left to give more details about her father or how long her relationship with Damon will last…it's about to end".
Donna
Post a comment
Return to Top

These books so good!! I got the first 2 at the same time and read them so quickly!! I remember thinking that there HAD to be another book because I HAD to know what happened next!!!! And I now have the 3rd book!!!!!!
Ashley
Post a comment
Return to Top

Can\'t wait to start the 3rd and final book by Annmarie Sartor! What will happen with Alexis and Damon?? Can\'t start it till Friday because I won\'t stop reading until the last page! GREAT series of books!!! I highly recommend them!
Sandy
Post a comment
Return to Top

I got ur book about a month ago. I started it on a friday night, finished it the next morning! Bought and finished the other 2 by Sunday night!!! Loved them! Thank you!!!
Annie
Post a comment
Return to Top

I just finished your first novel, and I'm already on to the next. With a full-time job and two small children, I barely find time to read. Truth, Lies and Alibis was worth every minute! Your characters are exciting and your writing is fast-paced, intense, thrilling, always leaving us wanting more. Thank you for introducing me to Ms. Abby Marsh! Melissa
Melissa Reffel
Post a comment
Return to Top

Buy Now
Return to Top